Flipgrid is a student and teacher favorite–and one of our favorite tech tools too!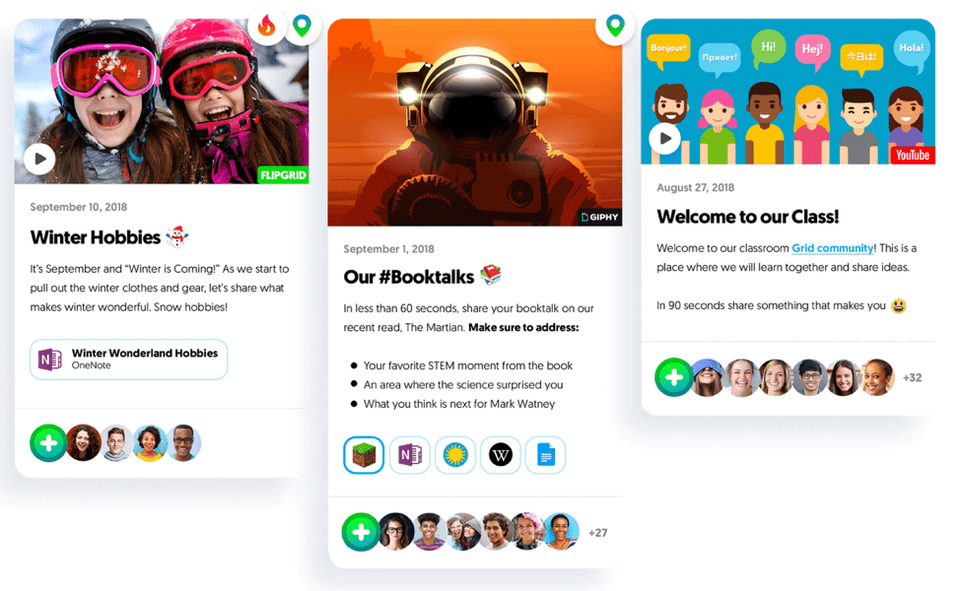 In this platform, students create short video responses to a question or topic.  The videos are visible to the class, with the option to reecord replies or grade the videos as well. As the teacher, you can set a maximum length for each video, from 15 seconds to 10 minutes.  Flipgrid also has a "whiteboard" feature, providing the ability for students to type, draw, or add images in their video. 
Kindergarten students to adults can use Flipgrid to connect and share ideas!
Ways to use Flipgrid in your class: 
Once signed in, find thousands of topic ideas, from vocabulary charades to analyzing windspeed, in the "disco library" section of Flipgrid. Here are a couple of ideas to get you started: 
As a warm up or exit ticket:
Have students answer a question in a flipgrid video.  Tip: if you turn on "video moderation" for this Flipgrid topic, students won't see each other's videos unless you approve them which makes this an outstanding channel for quick assessment.
Book Talks:
Students can share book reviews in Flipgrid, watch others' videos to get recommendations, and engage in a video conversation about the books they are reading. 
Practice: 
A quick video recording provides opportunity for students to practice and self-assess, from reading skills to speaking and presenting skills. 
World Languages: 
Students can create a quick video in the target language, making it easier for the teacher to assess and give feedback.  Again, these videos can be private to only the teacher, or try engaging students in a digital conversation, asking and answering each others' questions. 
Math:
Give students a challenging problem to solve, or maybe a scenario from wouldyourrathermath.com.  Have students explain their thinking and conclusion (and maybe use the whiteboard feature) in their video. 
Project presentations: 
Have students give a presentation in Flipgrid rather than in front of the class. Students can watch each others' videos and even create video replies. 
Connect globally: 
Form digital pen-pals by connecting your classroom Flipgrid with another classroom around the world!  Learn more here: https://blog.flipgrid.com/news/gridpals

Resources:  
The resources section of Flipgrid is brimming with tips, ideas, and tutorials.  
Find step-by-step instructions, explanation of features, and implementation ideas in this Flipgrid guide.
If you'd like additional support or resources, our professional learning team would love to help! Contact us at coach@cbdconsulting.com.  
Like these ideas? To learn classroom engagement strategies that make the most immediate impact, we recommend checking out our program, "Fostering Student Engagement."
Learn More >