There isn't a lot of agreement about how to improve schools these days.  
"We need better teacher prep programs"
"Teachers need fair compensation!"
"What about learning models?"
"Vouchers will fix it all!"
But here is one area where everyone, inside and outside of schools, agrees: Every child needs to learn how to read.  
The stats aren't good.  According to the most recent NAEP test in 2017, only 37% of 4th graders in the US are proficient in reading.  And the stakes are higher than ever. 24 states now have some form of retention policy for students who aren't reading-proficient by the end of 3rd grade, and more states are planning to follow suit.  
We are in the midst of a reading crisis.  
But all is not lost!  The podcast Educate produced a fantastic episode called "Hard Words: Why aren't kids being taught to read?" in which they follow Calypso Elementary School, one of 16 elementaries in Bethlehem Public Schools in Pennsylvania.  
Calypso Elementary
In 2015, only 35% of Calypso Kindergartners passed the end-of-year reading benchmark assessment, and only 47% passed district-wide.  By 2018, 100% of Calypso's K students passed the test, 84% district-wide. Rest assured, this isn't a story about a wealthy district with unlimited resources.  56% of Bethlehem kids are low-income (63% at Calypso).
So how did they do it?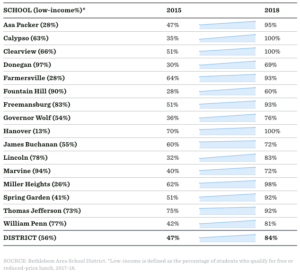 The longer answer is given in the podcast, which you should definitely listen to.  The short answer is, we don't teach reading correctly.
The science is settled on this.  Reading is not a natural process for kids.  Speaking is, to be sure. But not reading. That's actually a relatively recent phenomenon, and our brains haven't quite evolved yet.  Speaking is natural by now. Reading must be learned.
The Science
So, according to reading science, here are the 5 Components of Reading:
Phonemic Awareness

Phonics

Vocabulary

Fluency

Comprehension
If you're like me, you'll be surprised to hear that most teacher prep programs don't focus on the science or strategies on how to teach phonemic awareness or phonics.  
Rather, most forgo phonics instruction for "whole language" strategies, which is the idea that reading is natural and kids simply need to be immersed in reading-rich environments and make meaning of words.  
Whole language sounds great… but it's not working.
Let me pause here and refocus: We're talking about early-grade reading instruction, learning the actual building blocks of decoding and making words from sounds.  The ultimate goal, of course, is comprehension, which has its own challenges. For now, we're talking about the building blocks.
(Dr. Elizabeth Birr Moje, renowned literacy researcher, speaks with me about the comprehension problem and what can be done here).
How to Teach Reading Better
So here's a few "Do"s and "Be Careful About"s I grabbed from the podcast and ensuing dive into the depths of reading science articles:
Dos
Be Careful About…

Teach new readers the

44 phonemes

Having new readers

memorize sight words

Display

the 44 phonemes in the classroom

Displaying the alphabet

with example words (Octopus and Owl both start with 'o' but use two different beginning sounds)

Teach

rhyming, blending, and segmenting

Moving too quickly.

 Everything improves as students become proficient readers – confidence, knowledge, engagement, etc.
We can all lend a hand here as parents, educators, community members.  Strike up a conversation, share the science. Calypso went from 35% proficient to 100% in 3 years.  As a country we're at 37% right now. Where will we be in 3 years?
Like these ideas? To learn classroom engagement strategies that make the most immediate impact, we recommend checking out our program, "Fostering Student Engagement."
Learn More >