How often do your students share work with anyone other than you, their teacher? Other than their parents? Other than their classmates? The often-bandied idea of authentic audience is not a strategy or a trend. It is a fundamental concept that has deep ties to such other fundamental concepts as motivation and engagement.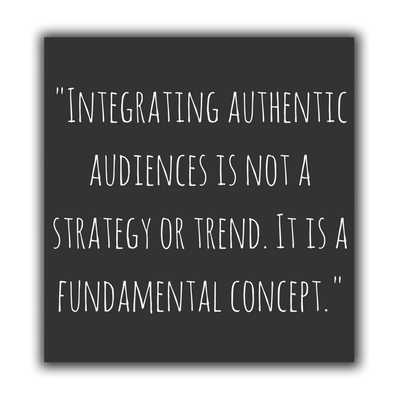 Until recently, historically speaking, establishing an audience outside the classroom walls was difficult and required significant planning. That is no longer the case and has not been so for quite some time. Thus, the argument is resolved. Motive and means are guaranteed. Or, if you prefer, the Why, How, and What have all been established. Why integrate authentic audiences? Because motivation decays in isolation but thrives in community. How to integrate authentic audiences? Continue reading this post for some solutions. What to integrate for authentic audiences? Everything.
So here are some teacher-favorites that make this simple.
Seesaw
Seesaw is the elementary teacher's first choice for creating a digital learning hub, and it includes an optional public blog that might just be the easiest public website/blog experience ever invented.
Teachers and students post to the class journal, like normal, but when the feature is enabled, a simple click of a button adds the desired post to the class blog (which is either public or private, depending on the setting). Teachers can control the process or allow students to self-select (be mindful of age and permissions).
Google Sites
The new one, in case you are still more familiar with the old one. The new one is better.
If your school is already a GSuite school, this might just be the best option available. It is easy enough for lower elementary students to pick it up and complex enough for upper level students (and even professionals) to do some incredible things with it.
The simple description is that Google Sites is a basic drag-and-drop, block template website builder. Simpler than Weebly and cleaner than anything else out there. Plus (Google fans saw this coming a mile away), it is completely free and entirely collaborative! Students can build sites solo or do so collaboratively in real time. It is simply unbeatable.
Visit the Get Started… page for a quick overview.
Padlet
As little more than an online post-it board, Padlet has proven to be one of the favorites for simple sharing. Students can post together on a wall to collaborate and share (such as examples of a certain project), or individuals can create Padlets separately for use as a digital portfolio or exhibition.
Users can post text, media, and more (like embedding to a limited degree), and it is very easy. Posts can be moderated. Commenting can be enabled or disabled. Viewership can be private or public. It really is a great way to dabble in the world of publishing without having to commit to creating entire websites or blogs.
Learn more at the Padlet blog.
Kidblog
If you want to take the direct blogging route, Kidblog is probably the best place to start. It is built for educators with younger students in mind, so it offers more features and flexibility that appeal to education than most blogging platforms.
The primary downside is the cost. Very little is free. The tool can be used, but to truly benefit from its features, there is a price (it is not a terrible price for individual teachers/classrooms, at $44.00/year for unlimited sections and 200 students).
Learn more at the Kidblog blog.
Google Slides
For those who feel that the blogging and web-building tools are too much too soon, Google Slides might be a great starting point. With a built-in publishing function, any slideshow can be turned into a standalone online presentation (privacy still controlled at the share settings level).
Users benefit from the power of Google's collaborative atmosphere as well as some profound features often buried deep in the tool (have you tried changing the page setup, editing the Master, or using the Explore button?).
For the teacher or student who truly leverages the power of Google Slides, it is far more than a presentation tool. It is a discussion platform, a digital portfolio, an ebook creator, a choose-your-own-adventure platform, a self-paced learning experience, and more!
View this page for additional tips and tricks.
Like these ideas? To learn classroom engagement strategies that make the most immediate impact, we recommend checking out our program, "Fostering Student Engagement."
Learn More >