Facilitation is an art that when effective promotes both productivity and student initiative. Making it effective is the challenge. Fortunately, the wide world of education literature has a lot to say about the topic. Our goal with this brief reflection, then, is to recall those key ingredients and provide some resources to help teachers connect the dots.
The goal is productivity and student initiative.
Trying to separate productivity from student initiative is largely an unnecessary exercise. A student who takes initiative is almost definitely also productive. Therefore, the goal really is to increase initiative. For our purposes here, we are going to assume that a well-facilitated experience is likely to achieve that end. It's a safe assumption.
The Ingredients for Effective Facilitation
Among other things, some of the most essential ingredients for effective facilitation include:
Measurable definitions of success (for time well-spent and efforts well-directed)
Clear expectations and accountability (based on those definitions of success)
Predictable protocols for conferencing and feedback
This isn't a revolutionary list, but it will guarantee a better work time experience when followed. Consider the layers as follows.
Measurable Definitions of Success
Most challenges with independent or collaborative work time revolve around aimlessness or confusion. Address this proactively by ensuring that students always know what it means to be successful during such a time. Exactly how to create clear success measures matters as well.
One common solution is to define for students how much progress needs to be made in a given time. Chunking the complex tasks into clear, achievable bits and bites makes this approach easier as well.
Another approach is to ask students to look at the broader task and identify for themselves what needs to be done. This is a key step toward building student initiative and is itself a skill well worth developing. However, it is not an easy task for students unfamiliar with tackling complex projects.
Both scenarios allow for more or less student autonomy depending on degrees of imposed structure or scaffolding. Clarity here, whatever the approach, makes productivity infinitely more likely. After that, the question becomes one of details, mostly.
Clear Expectations and Accountability
With clarity in terms of success, the natural next consideration is explicitly expectations for how the time will look to best ensure that success. These expectations must include both academic efforts and behaviors. If the definition of success is what to do, the expectations are how to do it.
As educators know reflexively, though, expectations without accountability or follow-up produce the opposite of the desired outcome. Therefore, accompany expectations with a plan for accountability. This includes the success measures as well as the behaviors. The means of accomplishing this combination effectively is, then, the magic sauce for successful facilitation: conferencing and feedback protocols.
Predictable Protocols for Conferencing and Feedback
To best illustrate this ingredient, we've included an example protocol below (student template). You are welcome to print the PDF or copy and modify the Google Doc.
Facilitation protocols allow for structured and predictable experiences that provide feedback and accountability. Such protocols include things like teacher conferencing as well as peer support. In fact, the best approach to facilitating student work usually involves a combination of teacher-to-student, peer-to-peer, and individual reflection.
Additionally, the most effective protocols are usually simple and easily knowable. In this way, students can become familiar with a predictable routine.
Consider this example: Bless, Press, Address. As a conferencing and feedback protocol, this approach incorporates a bit of student initiative within a simple structure. Students will expect three conferences with the teacher over a given period of time, and in the three conferences, will specifically discuss the student work. That discussion will focus from one of three perspectives.
Bless: the student asks the teacher to bless something about the work
Press: the student asks the teacher to press the work to be better in some particular area or way
Address: the student asks the teacher to evaluate an aspect of or question on the work and provide further guidance
In most instances, students will select which of the three areas of feedback they want for a given conversation. Sometimes, the directive is to select one of the three but not repeat one previously selected. In other instances, the students might be permitted to select any of the options for each conference. See below for a template graphic organizer (click to view printable PDF) for students, or click here to create an editable copy in Google Docs.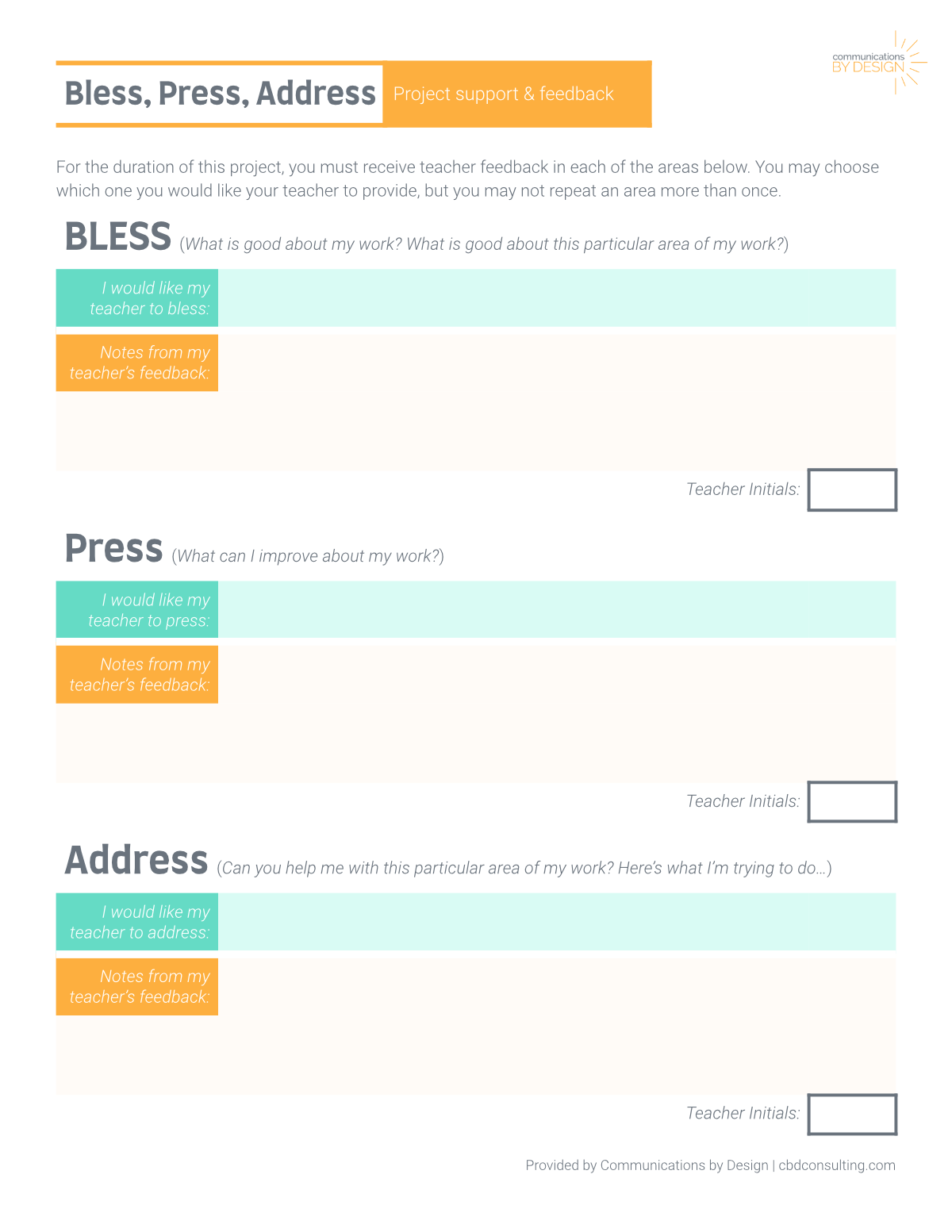 Productivity and student initiative begin with organization and structure.
If there's a single summarizing statement for effective facilitation, that is it. Structured time and expectations, clear definitions of success and relative accountability, and methods and means of implementing these things in routine and predictable ways is the core of successful independent or collaborative work time.
Like these ideas? To learn classroom engagement strategies that make the most immediate impact, we recommend checking out our program, "Fostering Student Engagement."
Learn More >