We study how students learn and are motivated in school and investigate teaching and learning strategies that work. Then we actually try them! This library is a collection of strategies that are proven to support effective instruction.
What's more, to help you implement new ideas as efficiently as possible, we include student handouts, graphic organizers, teacher resources, and more! We are adding more strategies every month, and it's totally FREE!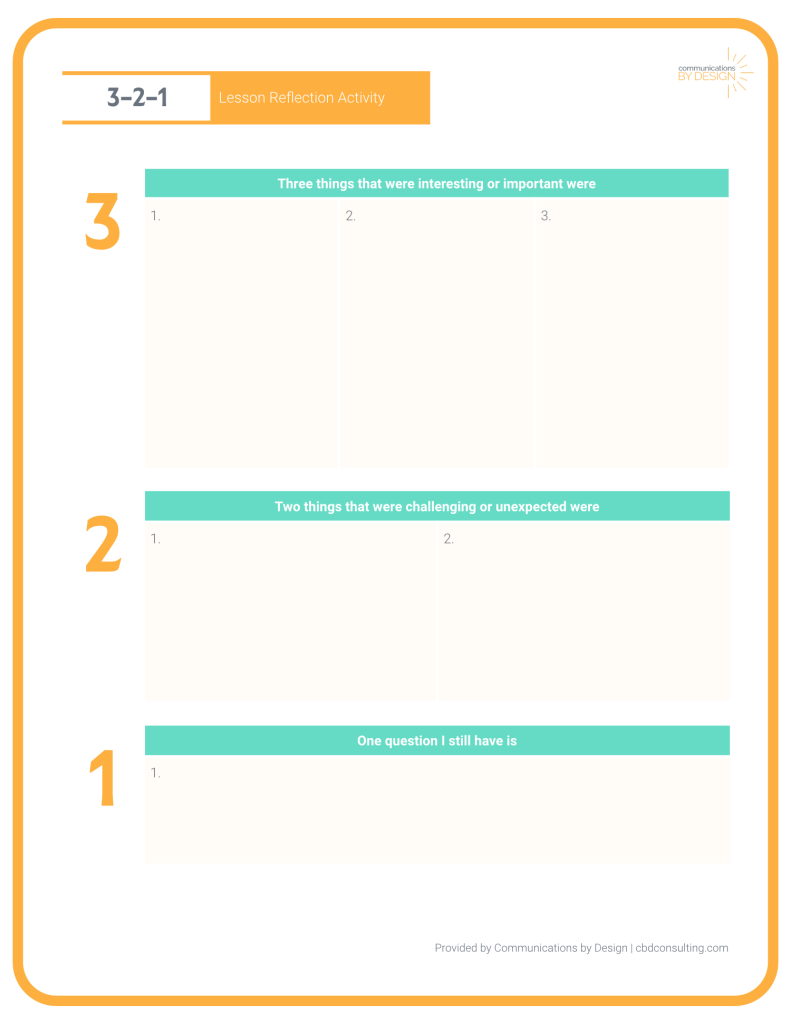 Take a look at this example: the 3-2-1 Processor strategy is a highly effective reflection, discussion, and/or retrieval practice aid. For this strategy, our library includes:
An explanation of the strategy
Descriptions of ways to implement it with your students
Resources like an overview video, example document, and even multiple formats of document templates that you can copy and edit for your own use!
INSTRUCTIONAL STRATEGIES THAT
HELP TEACHERS
We are classroom teachers ourselves, so we have a fairly good idea what helps and what doesn't!
HERE'S WHAT OUR EDUCATORS SAY
Our time with Communications by Design has been some of, if not the best, PD that I have experienced in my 25 year career.
I already see a difference in my student engagement compared to four weeks ago. I'm reaching those students who I thought were unreachable in a variety of ways.
I received bountiful positive feedback from staff about things they learned and will put into practice. I think it had a significant impact on some of our more senior teaching staff.
Our best advice on everything from educational technology to classroom instructional strategy.
This one is for you, teachers! Sure, we talk a lot about having our students